I'm coming up on a year and a half selling on the Poshmark app!  What a fantastic side business it has been for me.  If you didn't get a chance to catch my first post on Posh and what it's all about, see it here and for more details,, click here.
I received the coveted "Congrats! You are a Suggested User" email (woot!) and have been asked to host a few Posh Parties!  Exciting stuff!!  I have seen my followers jump up drastically in the last few months…I will be posting more on how all this new-ness is going and affecting my sales a little later.
For now, I thought I would share a few tips that I wish someone had told me a little earlier on in my Posh journey…hopefully this will make your life as a Posh seller a tad easier!  Let me know if anything helps!
Without further ado…my Top 10 Things I Wish I'd Known Earlier on Poshmark:
1. Make postcards for package inserts
I started out using notecards and handwriting each of my customers a personal thank you note.  Lovely in theory, but when I had 10 packages going out the door one evening, the handwritten notes added another hour and a half to the packaging time.  Not efficient.
I went ahead and invested in 500 postcards from Zazzle. They represent my brand and I, include a nice note with information about where to find my closet again, a shameless plug to come look at my blog and a thank you.  I then handwrite a "Hi ______!  Thank you so much! Enjoy! xo Jordan" and call it good.
Feel free to use this design to start you off…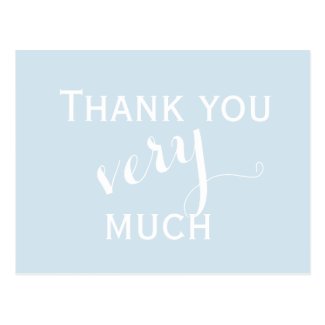 2. You don't have to respond to every "like"
I started out thanking each fellow Posher that left a "like" with a follow up comment.  I thought I was being polite.  Turns out this is a major "turn off" in the Posh world and can turn buyers away.  I now only follow up with a comment if a buyer is "liking" more than 3 of my items at a time and/or asks a question about an item.
I will usually write, "Hi @_____! Thanks for the love!  Let me know if I can help with anything!"
I have found that going through the Poshers who have "liked" my items and sharing 3-5 of their items draws notice back to your closet, helps them out and doesn't come across as pushy.  Sharing speaks louder than words in Poshland.
3. The "triple tap share"
Ugh.  SO wish I had known this tip sooner.  At the top right of an item is the "Edit" button.  If you push this 3x, it will re-list the item and consequently share it to all your followers.  SO beats scrolling all the way to the bottom, pressing "Share" and then waiting until the "Shared!" pops up!
Here's a snapshot of my closet.  If I wanted to triple tap share my Banana Republic Vest, I would click the item first, then on the top right click "Edit", then "Next", then "List".
4. Share at least 3x per day
I don't always do this depending on the itinerary of the day, but everything I have heard and experienced is that sharing your full closet at least 3x periodically throughout the day helps with sales.  Obviously, spacing out your sharing results in more active users on the app seeing your items.  Morning (before I get up), mid-day and night (right before bed) work best for me.
5. Price slightly higher, make room for "lowball offers" and periodic price drops
You don't want to be ridiculous, but adding a significant amount to your "I would be ok if I got this much" price allows you the ability to automatically accept a low offer (guaranteeing a sale) and/or make price drops, resulting in discounted shipping for the buyer and a sale incentive.
6. Take advantage of Closet Clear Out
The only bummer on this one is that Posh randomly announces the Closet Clear Out events, so it makes it difficult to plan out your personal sales and price drops.  However, when the CCO comes- take advantage!  Posh usually drops shipping to $1.99 on any item over $10 and the buyers go crazy!  Take the profit margin hit and make up for it in the volume of sales for that weekend!
Closet Clear Out usually lasts for a 3 day period over a weekend.  Any price drops over 10% get discounted shipping.  Usually there is some sort of boundary…most likely the item needs to be over $10 to get the dicount.
7. Be picky about your "look" and brand (as long as it's "on trend", doesn't necessarily need a big brand- oversized flannels, leather goods, vintage pieces)
I have started to see that the closets that garner the most praise, attention and faithful buyers are the ones that have a clear brand and foster a "feel" when you open up their closet.  I am completely drawn to the closets with crisp, white backgrounds and on point styling.  I am a sucker for the flat lay or beautiful layouts.  It makes me want the item.  And whether I buy or not, that feeling is powerful.  I want to create that same feeling for my buyers.  This book might prove helpful if you are interested in what attracts a buyers eye and how to simply take a nice photo:
I have a few brands that just sell well for me (LOFT, Free People, Anthropologie, Urban Outfitters, J. Crew) so I will always scoop those up if they are reasonably cute and reasonably priced.  However, I supplement with flannels, leather sandals, vintage industrial/leather bags, backpacks, tribal prints and chunky sweaters (when in season).  The PNW/cozy/vintage vibe sells quickly….so I go with it.
I have also decided to keep all my cover shots the same or at least very similar in layout.  Not all successful Poshers follow this rule…but I think it's working for me, and it just makes me feel better:)
8. Take a picture of the item brand and size so you can list on the go
When I am taking pics of my items, I include a pic of the tag (with brand, size and care instructions).  This helps put the customer at ease that you are telling the truth AND make sit so I don't have to have the item with me when I'm listing it.  I can list on the go as I have the pertinent info with me!
9. Join a share group
I am currently taking a break from my share group…but I am a big advocate for joining one.
For developing the habit of sharing
For the accountability of sharing EVERY DAY
For the free exposure to other Poshers' circles
For the "I've got your back" Posh friendships that occur
Search "Share Group" in the search bar or check out the PUG Facebook group for our weekly share groups!
10.  Don't get discouraged by sale slumps
I have noticed, at least where I am at in my business, that I will get waves of sales and activity and then crickets for a period of time.  And then I feel the wave start to build again and the cycle repeats.  When I hit a slump, I will focus on sharing other people's closets, following new people and participating in the parties by sharing Host items and Host Picks.  Trying to get fresh eyes on my closet seems to help turn the tide so to speak.
Let me know if you have any Posh questions…I'm no expert, but I would be happy to try and find out the answers for you!  Posh is a very social app/business, so reach out and get advice and encouragement!
Happy Entrepreneur-ing!
xo Jordan